Whistle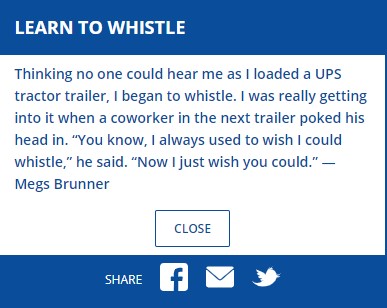 Thinking no one could hear me as I loaded a UPS tractor trailer, I began to whistle. I was really getting into it when a coworker in the next trailer poked his head in. "You know, I always used to wish I could whistle," he said. "Now I just wish you could." —Megs Brunner
Post Office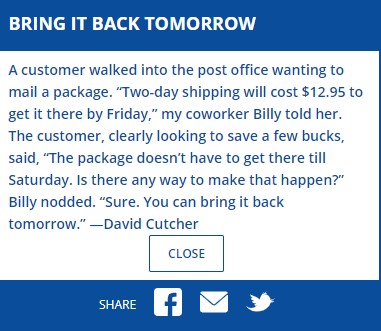 A customer walked into the post office wanting to mail a package. "Two-day shipping will cost $12.95 to get it there by Friday," my coworker Billy told her. The customer, clearly looking to save a few bucks, said, "The package doesn't have to get there till Saturday. Is there any way to make that happen?" Billy nodded. "Sure. You can bring it back tomorrow." —David Cutcher
Share a fun with care!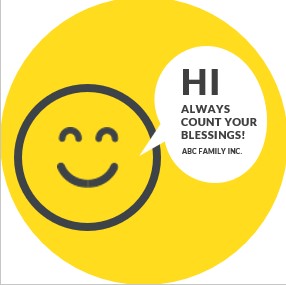 ShareSmiles is a simple-to-use blog page where you can share funs with others!

Just fill out the Survey Monkey Forms below and your ShareSmiles with Care will be uploaded shortly!
Check Out More funny stories!
Reacing our for help!
Done Grocerry shopping first time!
Fun with pet
Submit Your fun stories over Here
Earn badegs by posting and reviewing fun stories
Join fun virtual meet up every week!
Wanted to share fun to seniors by writting a letter with care!